Travel Guide
Airports
Panama has one main international airport, Tocumen International in Panama City. However, Panama is actually home to more airstrips per capita than any other Central American country and there are small regional airports located throughout the country. For regional flights out of Panama City, there is Albrook Airport. The airport at Bocas del Toro on the northern Caribbean coast, has regular flights to and from Costa Rica as well.
Airfare to Panama
Prices to and from Panama will vary depending on season and departure city, but you can usually find rountrip tickets somewhere between US$400-$800. Traveling in the summer, when it's wetter than in the winter's dry months, but still very nice, can save you some money. Also try to book far in advance, look for last minute deals, and travel midweek if you want to save a few extra bucks.
Budget Travel
While you may have to miss out on some of the rafting and canopy tours, Panama can easily be explored on a tight budget. If you travel by bus, eat at local joints and stay in hostels, you can comfortably get by on about US$20-$30 dollars per day. With so much to do for free, Panama is the perfect destination for someone on a tight budget.
Luxury Travel
There are growing luxury travel options for those interested in being pampered during their stay in Panama. The isthmus is now home to many spas and luxury hotels where guests can be sure to be comfortable during their Panamanian vacation. If you are looking luxury that is environmentally friendly, there are also a growing number of high-end eco-friendly destinations in this country.
Adventure and Nature Travel
Whether you want to explore Panama's vast jungles on your own or on a guided tour, there are lots of opportunities for tourists to get down and dirty with nature in Panama. Although there is less abundant wildlife here than in neighboring Costa Rica, Panama is still home to pumas, jaguars, monkeys, birds, fish and other marine life, and snakes. Whether you want to trek around the base of a volcano in an attempt to see the famous red-bellied Quetzal bird, whitewater raft, of dive in a marine preserve there are tons of options for travelers on all kinds of budgets.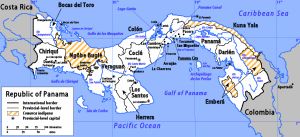 Regions of Panama
Because travel to the different regions was limited due to poor infrastructure for so long, each of Panama's 9 provinces and 3 comarcas (regions autonomously ruled by indigenous groups) have their own distinct and unique culture. While a common Panamanian culture thread runs through all of these areas, each has it's one flavor.
Panamanian Provinces:
Bocas del Toro
Chiriqui
Coclé
Colón
Darién
Herrera
Los Santos
Panama
Veragus
Panamanian Camarcas
Emberá
Kuna Yala (San Blas)
Ngöble-Buglé
Rental Cars
Renting a car in Panama is definitely an option if you want to explore the country, but don't want to travel by bus. Beware, however, as Panamanian drivers (especially in Panama city) tend to be a little nuts and many of the roads have huge potholes, are ill marked and hard to travel on. During the rainy season many roads can also be washed out and intersections and roads are rarely labeled. It's probably not the ideal way to get around the country (I say take the bus and leave the driving up to someone else), but it is an option for those who want to do some more remote exploring.